I'm happy to provide Degree of Freedom readers with their first taste of multimedia at the site: an audio recording of an interview with edX President Anant Agarwal.
I had the great pleasure of talking to Anant a day before edX's first anniversary where he shared a number of insights into edX's involvement in and contribution to the MOOC experiment, including his views on who is taking edX classes and why, how workload can vary between different MOOC courses, credit for MOOCs and where edX (and MOOCs in general) may be going in the coming years.
This is the first in a set of interviews with thought leaders in the MOOC movement, as well as teachers and fellow learners doing interesting things with free learning.  I want to do a little fine tuning before releasing this on iTunes (adding an intro and outro, for example).  And apologies for some audio quality issues with this first attempt at podcasting on the site.  But I hope you enjoy and stay tuned for upcoming additions to this exciting series.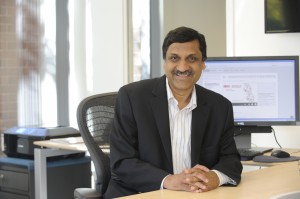 Note: This interview was recently incorporated into a new Degree of Freedom podcast which can also be downloaded from iTunes.
Podcast: Play in new window | Download
Subscribe: RSS