On Critical Thinking
Are You Thinking What I'm Thinking – A Talk with the Folks at the EdUp Experience Podcast
The Future of Education – A Discussion with Author and Educational Visionary Michael Horn
Vox – Some thoughts on the role of skepticism and knowing
EthicsBowl.Org – What role can critical thinking play in ethical decision-making
PASS – An intriguing conversation about critical thinking with educators and students from Pakistan
The Juice – An interview on the Future of Critical Thinking and Education
Authority Magazine – Five Steps We Can Take to Restore Trust in Journalism.
Brain Bytes Back – How to Become a Skilled Critical Thinker
Fortune Magazine – Betting Markets Called the Presidential Election More Accurately Than Polls
Spectrum News – Author Discussed Critical Thinking Skills to Use in Pandemic
OAN – Why we should all calm down and use our heads post-election.
Health Guider – A conversation with Dr. Adwait Mehta, Assistant Professor in Internal Medicine at The University of Texas Health Science Center at Houston, about how to be a critical-thinking patient.
Inquiry – A talk with Mark Lynch from WICN Public Radio about Critical Thinking Essentials.
Dirty History Podcast – A wide-ranging conversation with teacher and podcaster Thomas Thompson on critical-thinking, education, and politics.
Partially Examined Life – I join all four hosts hosts of the premiere philosophy podcast to talk about the educational philosophy of John Dewey. Part 1 | Part 2
New Books Network – An interview with Trevor Mattea from New Books Network
Thinking Clearly – A talk with Bob and Julia, hosts of one of the only radio programs I can think of dedicated to critical thinking (a recording from KMUD California).
EdSurge – Interview with Jeff Young on the EdSurge podcast, along with Peter Adams of the News Literacy Project, on Fighting Misinformation n the Age of COVID-19.
Edu Futures – Interview with Goddard College President Bernard Bull (one of my old MOOC professors) on critical thinking and the future of education.
The David Pakman Show (YouTube). Also, available as a podcast (interview is at the 30-minute mark).
It's All Journalism – A discussion of why journalists should be checking the logic, as well as the facts, behind the news.
Thinking Critically Podcast – An extended discussion with a fellow Jonathan devoted to teaching critical thinking skills.
Critical Thinking, with Jonathan Haber (Interview with Scott Jones on the Give and Take Podcast)
Critical Thinking in the time of Pandemic (webinar for Lexington Public Library)
Critical Thinking: What Is It? (Interview with Peter Gow on the Independent Curriculum Podcast)
Conversation with Jonathan Haber (The inaugural podcast of Online Community in Higher Ed from Yellowdig, talking about Jonathan Haber's new book Critical Thinking Essentials)
On MOOCs and the One Year BA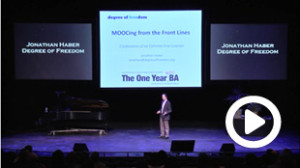 Previous MOOC-Related Speaking Engagements
MIT Science and Policy Initiative (Cambridge, MA – January 31, 2014)
MIT Tech Conference – Disrupting Life! (Cambridge, MA – February 22, 2014)
LearnLaunch 2014 Conference (Cambridge, MA – March 1, 2014)
Digital Media and Learning (DML Hub) 2014 Conference (Boston, MA – March 7, 2014)
MOOCShop (Denver, CO – June 23, 2014)
Campus Technology 2014 (Boston, MA – July 28-31, 2014)
MIT – Digital Learning: Improving Access to Learning and Holistic Educational Outcomes (Cambridge, MA – September 23, 2014)