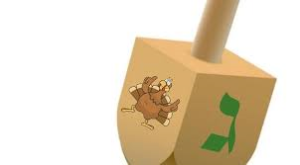 Taking the rest of the week off to enjoy the holidays (old, new and blended).
For those still interested in the backlash against the MOOC backlash, I've returned to Huffington Post in hope of trigging a backlash backlash backlash.
Meanwhile, for everyone celebrating Thanksgiving, Chanukah, Thanksgivukkah, Kwanznukimas, or whatever "pop-culture portmanteau neologism" you call your own – All the best!
See you next week.